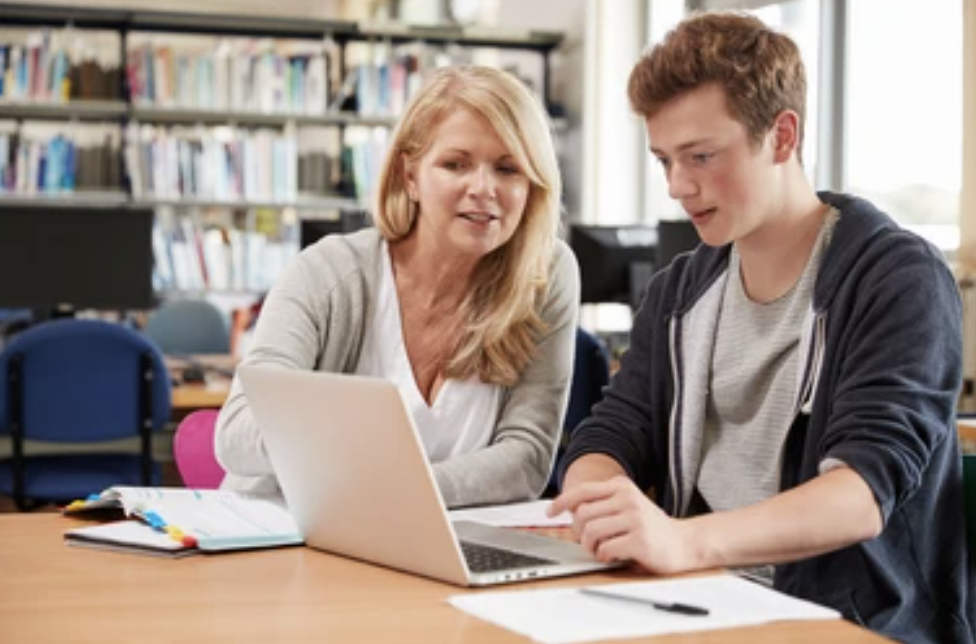 Online tuition has boomed in popularity over recent years and a good tutor can soon get booked out.
In this article, we hope to explain how to find an online maths tutor that will provide an effective and value-for-money learning experience.
How to Find a Good Maths Tutor
When finding a maths tutor it is important to consider many factors such as personal recommendations, reviews from previous clients and the quality of the service that they can provide.
When selecting a tutor, always ask to see valid copies of the relevant working with children checks for your area.
To find a good tutor:
Ask your child's teacher.
Ask other parents for recommendations.
Ask at local libraries, colleges or community centres.
Read the reviews and testimonials of tuition centres or from online agencies.
When choosing a maths tutor, it is first important to establish exactly what you are hoping to achieve from the tuition sessions, whether the tutor can meet your needs and their ability to build a trustworthy relationship with you ahead of working with your child.
We strongly encourage you to get in touch using the enquiry form below if you would like to know more information, arrange a short telephone call or a free Zoom trial meeting to discuss your tuition needs.
Let's touch further on some of the key points raised above for selecting a tutor to help you find a good tutor online.
Ask your child's teacher
A good tutor should be very open to working alongside your child's teachers.
Ensuring the best success for your child is a team effort involving the child, the parent, the teacher and the tutor.
Many teachers will often be aware of potential tutors that they can recommend and they are often happy to answer a quick email with their suggestions.
The benefits of asking your child's teacher for recommendations include:
They can provide information on the current curriculum and what the upcoming topics are.
They will have a good understanding of your child's strengths and weaknesses
They may be able to provide advice on the amount or frequency of tuition required or the topics that should be covered.
Ask other parents for recommendations
A good tutor is able to build strong working relationships with parents and the child. An open communication pathway and flexibility are vital. A good tutor will be able to provide alternative explanations or methods to supplement those typically seen in a school setting. They recognise that an alternative approach may be required for some students to achieve their potential.
Asking other parents for recommendations is a great way to find this tutor. They can provide feedback on how the tutor has impacted on their child from their first-hand experience.
Questions to ask these parents can involve:
How did the tutor improve your child's results?
How flexible was the tutor?
How easy was it to communicate with this tutor?
Did your child engage with and enjoy the sessions?
Ask at local libraries, colleges or community centres
Libraries, colleges and community centres can often be a useful source of information when finding a local tutor.
Check out the local noticeboards to see if any tutors are advertising their availability.
Whilst this is a way to find a tutor, always ensure that reviews and testimonials are available and that the prospective tutor is able to provide the appropriate working with children checks.
The main benefit of looking for a tutor in local community centres is that you will find someone local to you. However, if looking for an online tutor, this is less of an important factor.
Read the reviews and testimonials of tuition centres or from online agencies
It is important to read the reviews and testimonials available from previous clients.
The reviews and feedback provided can help to give an insight into the tutor's ability to work with others and some of the results that can be expected.
Here are just some of the reviews and testimonials left by our previous tutees:
---
No Title
Andrew has made a huge impact on our daughter's maths grades in such a short space of time. He is an excellent tutor who has built her confidence from day one and this has translated directly into her school maths results. He is a pleasure to deal with.
–
An amazing tutor. My son really enjoys the sessions and we often go beyond the minimum time for no added cost. Andrew always has great material prepared for the sessions and he is very accommodating of our requests.
–
Love Andrew. Amazing with both Maths and kids. Have so much to say – fantastic tutor.
Andrew has assisted our children to become confident in their approach to Mathematics in general; improved their school grades as well as made the topics fun and enjoyable. The homework from our end is always done, which also indicates that kids respect him and genuinely want to learn and improve. Could not recommend him higher.
---
How to Choose an Online Maths Tutor
When choosing an online maths tutor consider the following:
The quality of their previous reviews and testimonials.
Their mathematical qualifications and comfortability with the curriculum.
Their history and experience of teaching and tutoring across a range of abilities.
The ease of communication and flexibility around booking.
The software or platform used.

We will now look into these points in more detail.

The quality of their previous reviews and testimonials

Since it is likely that a potential tutor will be working with your child, it is imperative that you choose a someone that you feel comfortable with. You will want to have trust in their ability to work in a positive manner with your child and confidence in the process.

When choosing a face-to-face tutor, you typically will meet them in person either at their home or your own.

While online tuition can be the preferred option in many cases, it is a very good idea to read previous reviews and testimonials, their tutor profile and 'about' pages so that you can be confident in the service you will receive.

I'm Andrew! Please visit my tutor profile to see my list of services.

When reading the testimonials, consider looking at the following:

How well does the tutor build relationships with the parent and the tutee?
Did the tutee enjoy the sessions?
Has the tutor been flexible and accomodating of requests?
Did the parent and tutee see results from the tuition (improvements in confidence and school grades)

Their mathematical qualifications and comfortability with the curriculum

It is beneficial to choose a maths tutor with knowledge of mathematics beyond the level required in the tuition. A deep understanding of this more advanced mathematics allows the tutor to ensure that key processes and skills are taught correctly so that the tutee is ready for content taught in the future.

Good mathematics tutors should be able to work flexibly between all areas of the curriculum and help the tutee to build strong links between the different topics.

A more qualified tutor is more likely to have an idea of which methods are appropriate to use in their teaching. Sometimes shortcuts or alternative teaching strategies may not be appropriate as they do not teach the child for a deep understanding. A qualified and reputable tutor will be able to use a wider variety of teaching methodologies to explain a problem.

It is beneficial to choose a tutor that has recent teaching experience alongside their tuition. Current teachers will better understand the methods taught in schools and will have a more up-to-date knowledge of the which aspects of the curriculum are most important. They may also be in a better position to communicate with the tutee's teacher.

All tuition provided at mathsathome.com is with a current Head of Mathematics, who is very experienced in teaching all levels of mathematics from Junior school maths up to the most advanced Senior school maths.

Online mathematics tuition is offered in all branches of high school mathematics including calculus, algebra, geometry, statistics and much more.

We offer math help on a range of math problems.

Their history and experience of teaching and tutoring across a range of abilities

Following on from the points listed above, a good tutor may have a range of experiences both teaching inside the classroom or in a tuition environment.

The skills required when tutoring and teaching are similar but not identical.

Tutors may operate in a less formal manner than a teacher and building a good working relationship with the clients is highly important.

Tutors may need to be able to identify gaps in knowledge and use alternative methods/explanations to help get the tutee up to speed.

Benefits of a tutor who is a teacher:

They are familiar with the curriculum.
They usually have a wide bank of relevant resources and practice material.
They will be in a good position to advise on topics that should be taught and how to prepare for tests/exams.
They will better understand the school assessment system and may assist with liaising with other teachers.

The ease of communication and flexibility around booking

It is important to select an online math tutor who provides an easy and open channel of communication.

Contact information should be provided and choosing a tutor with a same-day response time is recommended in case cancellations or last-minute changes are required.

It is useful to book in a video call prior to the tuition in order to meet the tutor in person and build a better working relationship.

We strongly recommend booking in a free Zoom consultation first using our contact/enquiries form above.

The software or platform used

It is important to consider the software or platform used for the online tuition.

Zoom is the recommended platform for online tuition as it allows both the tutor and tutee to screen share and write on the screen or whiteboard at the same time. It is free for the tutee and it is a familiar and common platform for many families.

Common online tuition platforms include:

Zoom
Google Meets
Microsoft Teams
Skype

In our experience of using a range of tuition software, Zoom is the most stable and user-friendly online platform which involves an online classroom.

It is a quick and free download for any prospective tutees, installing in minutes.

A major benefit of Zoom is the 'annotate' feature which allows both the tutor or tutee to write on any part of the screen rather than just on the whiteboard page. This allows for drawing over a range of worksheets or internet pages immediately.

The whiteboard feature itself on Zoom is more user-friendly and faster than those found on Google Meets or Skype.

Once you have made a booking with us, you will immediately be emailed your personal Zoom link. Simply click on this link at the time you have booked in for.

Is a Tutor Worth it for Your Child?

To decide if a tutor is worth it, consider whether your child develops in confidence and improves their grades. Feedback from your child is a good way to measure this. The quality of each tutor varies so looking at reviews and recommendations is a good way to decide.

We believe that investing in your child's education is always one of the best investments you can make. The difference between a good tutor and a bad tutor is not always reflected in their asking price. Once you find a tutor that works well with your child, the price is often worth paying.

Here are some reasons to get a tutor for your child:

To identify and fill gaps in their knowledge
To improve their confidence
To help them achieve better grades and test scores
To provide extra help with homework and assignments when parents are too busy or do not have the confidence
To provide the knowledge of a teacher in a more relaxed environment
To provide a structure, routine and discipline for completing work outside of school hours
To provide an opportunity to cover upcoming school topics in advance
To provide an opportunity to review content covered in school at a slower or more tailored pace
To provide an opportunity to cover topics covered in previous years of schooling
To help relieve stress around upcoming school deadlines and homework

Many parents enlist the help of a tutor for the immediate benefit of improving school grades, however, some of the most commonly overlooked benefits of getting a tutor are the improvements in wellbeing.

Children who receive tutoring know they have another person who is able to support them.

Homework and assignments can be a major source of stress. Having a tutor on hand to support can help to avoid the 'night before it's due' panic and lead to a generally more happy household!

Many students who undertake tuition report improved self-esteem and confidence in their learning.

Tuition can help provide study skills beyond the core subject content and math skills. Students can improve their overall approach to learning, problem solving, develop better revision habits and ask questions that they not be confident to ask their teacher in a whole-class setting.

When deciding if an online math tutor is worth it, only you can make that decision. Weigh up the costs against the improvements in learning and wellbeing that you see in your child.

What to Look for in a Good Tutor

A good tutor will demonstrate:

Strong expertise in their subject area.
Effective communication skills.
Flexibility in dealing with requests, bookings and cancellations.
Patience and ability to explain a concept in different ways.
Enthusiasm and ability to build strong relationships.
A non-judgemental approach and the ability to build trust.

Our recommendation would be to discuss your needs clearly from the start with a potential tutor and clarify exactly if they can meet your requirements.

From this discussion, you can ascertain further what their communication is like and if they are a tutor that you can trust with your child's education.

At Maths at Home, we encourage you to book in a Zoom conversation or contact us via our contact forms or email to establish if we will be the right fit for your child.

We aim to guarantee a quality tutoring service for a range of learning styles.

We do not have any minimum commitment for our sessions and you can book in at any available time slot as little or as frequently as you wish.

Many tutors require significant initial financial commitments such as booking a whole term of tutoring, a block of 10 lessons, or a commitment to tutoring at least twice a week. We do not have any such requirements or commitments.

Bookings are made using the booking system below. Any availability shown in the schedule is ready to book.

0

We aren't able to process your payment. Please, try again.

Thank you for your request!

Your confirmation number:

ADD TO iCAL CALENDAR

We pride ourselves on providing a personable and value-for-money service. Individual requests can be taken for specific needs.

Common online tutoring services we provide include:

Working on specific areas of weakness
Running a diagnosis test to identify gaps
Setting homework
Exam/test preparation
Support with assignments and math homework help

Good tutors will have a large bank of resources that they can use to tutor with and they will be able to work with your child on any topic in a flexible manner.

Here are some attributes to avoid in a tutor:

Poor communicator
Language barriers
Slow to respond to messages
Unreliable and not punctual to sessions
Lacking in patience and unable to explain concepts in a simple or different manner

Questions to Ask a Potential Tutor

Before choosing a tutor, it can be useful to ask them:

What subjects and levels can you teach?
What are your qualifications?
What are your tuition rates?
What teaching and tutoring experience do you have?
Do you have any reviews or testimonials?
What are your cancellation, rescheduling and refund policies?
Are you able to provide your own resources and study materials?
Do you require a minimum number of bookings each week or term?
What times are you available?
What is the best way to contact you?

How Much Does an Online Maths Tutor Cost?

Online maths tuition costs range from $30-$100 per hour with an average of $60 per hour. High school or university students are typically available for a cheaper price, whereas experienced tutors and qualified maths teachers will be more expensive. The more advanced the mathematics, the more expensive the tuition can be.

Tuition must be affordable but selecting a tutor on their price point alone may lead to disappointment and money wasted.

A quick online search can result in maths tutors available for prices as low as $30 per week. Like with everything, you get what you pay for.

Many large scale online services employ tutors with limited tuition experience or no teaching experience. College students are common tutors that appear in these searches. Whilst there are many college students who make excellent tutors, they may not have a direct mathematical qualification and may have limited experience in teaching mathematical concepts. Many private tutors will boast high grade averages of their own but may find it difficult to translate this success to others.

Many seemingly more-affordable tuition sessions are actually 'group-tuition' instructor services. These are offered both online and in tuition centres. These sessions are in small groups and are not 1:1 with your child and you may only save a fraction of the price when compared to 1:1 private tuition. Group tuition often involves a more lecture-style delivery with more limited scope for individual targeted support. The student or parent will have a lot less say in what topics will be covered and flexibility to handle individual needs will be limited.

A private math tutor will meet your individual learning needs such as looking at your homework problems and individual math concepts. Lesson plans will be designed completely around your requests.

Online tuition is often a more cost-effective solution than in-person tutoring as no transport is required and no time is spent in getting to the location. The need to make travel arrangements will often impact upon the plans of the student and the parent and can be more costly over time. Online tuition is often seen as a great convenience.

How Long Should a Tutoring Session Be?

Tuition sessions typically last between 30-120 minutes. The most common length is around 1 hour. Tuition under 30 minutes can be too short for quality learning and more than an hour can result in a loss of focus. The older the student, the longer the session can be. Sessions earlier in the day are typically more effective.

It can be useful to clarify with the tutor when the tuition time begins and ends and how much of this time is dedicated to learning. Some tutors may advertise an hour of tuition, where only 30-45 minutes of this time is actually spent teaching or practising content. The remaining time may be spent discussing plans for future sessions or other topics such as how the child is finding school.

We believe that it is important to build professional relationships through the tuition process and that the student should not feel rushed or that the tuition session is becoming a chore.

We provide a minimum of 40 minutes of teaching time with each tuition session. We find this time to be sufficient to cover several topics in depth without the student losing focus.

However, this time can be extended on an individual basis free of charge (please feel free to discuss this with us). All time spent discussing future plans, areas of weakness etc. are included above this 40 minute time duration for free.

The 40 minute time slot is a minimum time and is devoted to the tuition process.

This time duration was chosen following extensive experience in tutoring a range of students at all levels and selecting the most effective period of time for learning in an effective and purposeful manner.

Tuition that is too long can result in fatigue, lack of interest and decreased motivation. We prefer students to enter tuition with a mindset where they are left wanting more rather than feeling like they are filling time because they have to be there. Our prices then reflect this time duration.

That being said, we are often happy (depending on availability) to negotiate small extensions to the 40 minute time slot within a reasonable manner to ensure that you feel that you have received a quality service.